This summer I've been trying to get out of the city and into the mountains just about every weekend. When I was dealing with higher anxiety this spring I took note of what was important & what helps – and no surprise that has me prioritizing time in nature. I was sitting on the balcony in Vail this weekend taking in the sounds of the river, watching the fly fisherman below and the Aspens shimmering in the wind above and realized how much healthier I've felt these last few months since making it a priority to go to the mountains at least once a week.
Vail is one of my favorite getaways from Denver because I always feel like I've hopped on a plane to some tiny European village or somehow landed in a fairy tale. I love that you can walk or take a shuttle almost anywhere and I'm just slowly starting to explore the food scene (would love any recommendations!) For a little town there is so much to do – biking, fishing, a playground on top of Vail Mountain. But of course, you know my favorite thing to do in Vail in hike.
My Favorite Hikes:
Berry Picker Trail is one of the few trails in Colorado I've done more than 3 times and it's always worth it – and always challenging which I love! It starts right at the base of Lion's Head Gondola then you hike straight up the ski hill, literally hiking where we ski in the winter. Plus, it ends with a (free!) gondola ride down instead of paying the $50 to take it up.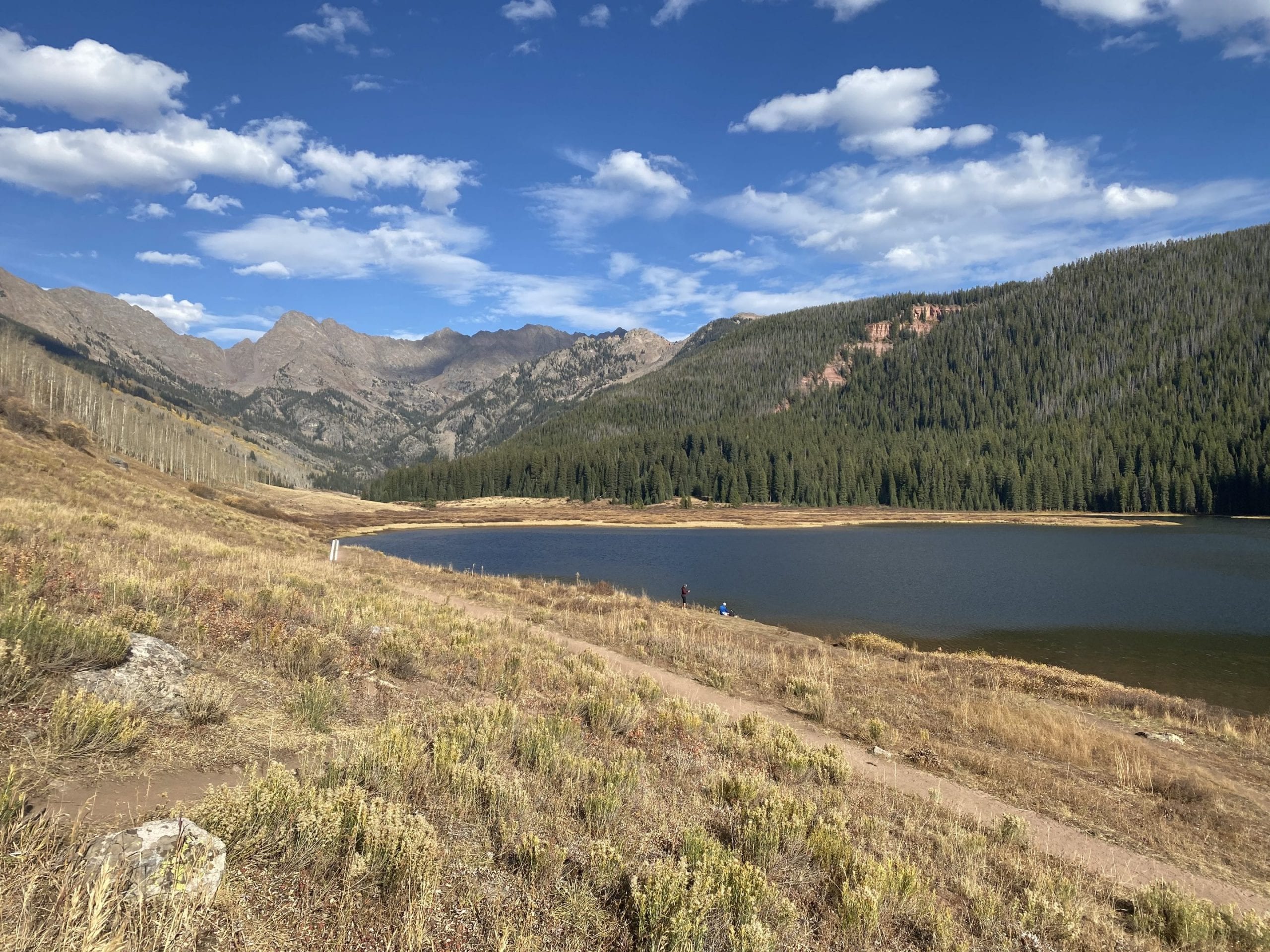 Upper Piney River Trail is a little more approachable and family friendly, just be aware there is a 40 minute drive on a dirt road to get to the trailhead but I think it's worth it. Absolutely put this hike on your list for fall colors because you're hiking along fields of Aspens!
If you're looking for more of a stroll than a hike, Gore Creek Path is perfect. It's right along the river in the heart of Vail along the base of the ski resort. You can park at the trailhead or in any of the lots & pop in where it's convenient – or just walk out of your hotel is you're lucky enough to be right on the path like we were.
I have not done the very popular Booth Falls yet, but would love to. It's incredibly popular so they've started a shuttle system so there is no parking at the trailhead.
Where We Stayed:
I've been staying athe Grand Hyatt Vail for years and it's one of my absolute favorites because it still has the charm and feel of a botique hotel. Every summer I make a trip up to lay out at the infinity pool along the Gore Creek Path – this year they added live music! I love that they have a huge list of activities like daily s'mores, champagne sabering, & sunrise yoga. This is one of my favorite yearly traditions & I already can't wait for next year.