I've been to a lot of hot springs both here in Colorado, out of state and in a few other countries but I'm not sure that any have captured my heart quite like Strawberry Hot Springs in Steamboat!
I mean… just look at this: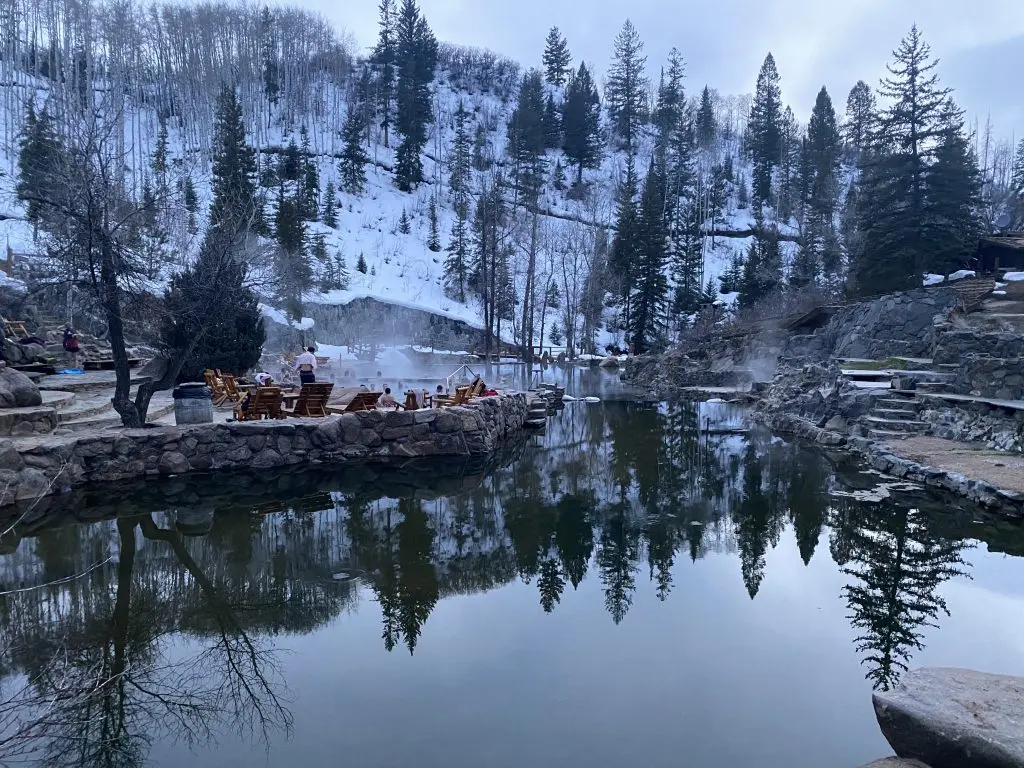 The scenic thermal pools are only 25 minutes from downtown Steamboat and are absolutely worth the trip and the $20 (cash only and there's no ATM on site so be prepared.) There's also a dirt road that leads to the springs for which you'll need four-wheel drive if it's recently snowed. There are shuttles available from town.
There are a few different pools, all varying in temperature from about 101-108 degrees. The closer you get to the springs the hotter the water. There are two main pools, the first one you reach is the hotter of the pair, with the one furthest away a bit more tolerable for long soaks. There's also a large cold pool with steps leading back up to both thermal pools after you jump in – which feels surprisingly incredible. Most of the natural hot springs or thermal pools I've been to have a slime to them, but these felt very clean and thankfully slime-free!
It's true what they say – clothing is optional after dark so children aren't allowed once the sun goes down. If anyone did strip down to their birthday suit, it was near impossible to see. Aside from the walkway to the parking lot, there's no added light near the pools making for an unbelievable stargazing experience if you get a clear night. Between the pitch black and the steam coming off the water, it's hard to see more than a few inches in front of you, let alone what anyone else is or isn't wearing.
We arrived just before the sun went down and I highly recommend this approach – we got the best of worlds because the pools in the light and dark and very different experiences. The hot springs are open every day from 10am-10pm but if you stay as cabin guest or in the campsites, their website says guests can enjoy the hot springs anytime overnight –  Next trip we'd love to do a sunrise soak!
How to get a reservation at Strawberry Hot Springs when they're all sold out:
During COVID, there are a set number of reservations and can be difficult to snag. They don't have a set time that they release reservations, so the best way to do it is to follow their Twitter page and be ready to click and reserve when they release the next batch. If you're lucky to catch it early you can make the free reservation and you're good to go. If you didn't manage to get one but are still going to be in Steamboat, there's a good chance you can still get a spot if you're vigilant. There are a ton of last minute cancellations so when four of us were looking to go on a Thursday night, we snagged a reservation at 8pm for two right around noon. Then around 3pm we got another single reservation for the 8pm slot, then about 6pm we got the last one for our group to go together. It definitely takes some effort but it's worth it!