Moab is just over five hours from Denver so it's perfect for a weekend adventure to another world. The gorgeous red rocks of Moab, Arches National Park and the Canyonlands are a must-see and it's also a trip you can do over and over again and see something new every single time.
Here's Our Itinerary:
Day One:

– Drive to Moab from Denver 
– Hike Corona Arch
– Explore Downtown Moab
Day Two:

– Arches National Park
– Hike Delicate Arch
– Trunk Picnic along the Colorado River
– Wine Tasting at Moab Castle Creek Winery
– Off-Roading to Gemini Bridges
Day Three:
– Hike Mill Creek Canyon
– Drive Back to Denver
This trip in general involves a lot of driving – even the day you're not traveling to/from Denver you're still in the car quite a bit. The first day we made it to Moab around 3pm which was perfect timing to sneak in the Corona Arch Hike, which is less than 2 miles and a perfect way to ease into the trip.
That leaves you plenty of time to walk and explore downtown Moab and grab dinner. My favorite spot is Moab Brewery – the food & beer are both awesome!
The second morning I love to get an early start since it's the only full day, but also because you really beat the crowds if you get to Arches early. We got there before 8am with no lines whatsoever and when we were leaving about 11am the line was about a half-mile long. Arches itself isn't too big of a park that you can't do it in a day or even the morning depending on which hikes you want to do.
The highlights for me are Fiery Furnace (you need a reservation if you want to hike into the furnace) Sandstone Arch, Delicate Arch and the Windows Section.
I love Arches National Park, but I also just love driving the Colorado River. The Canyonlands Half Marathon was actually my first half marathon and they shut down highway 128 and we ran along the Colorado River and into town (highly recommend!) So now I love to drive the route and pick a spot for a Trunk Picnic.
Keep going down 128 a few more miles and you'll run into the cutest little winery along the river, Moab Castle Creek Winery. You can pop in for a tasting ($1) and the wine is surprisingly good for the middle of the desert. There's a good chance you won't leave without a few bottles!
Finally, we finished up the day with an off-roading adventure to Gemini Bridges! This may have been the highlight of the trip for me because it was my first time off-roading on my own and the views were unbeatable.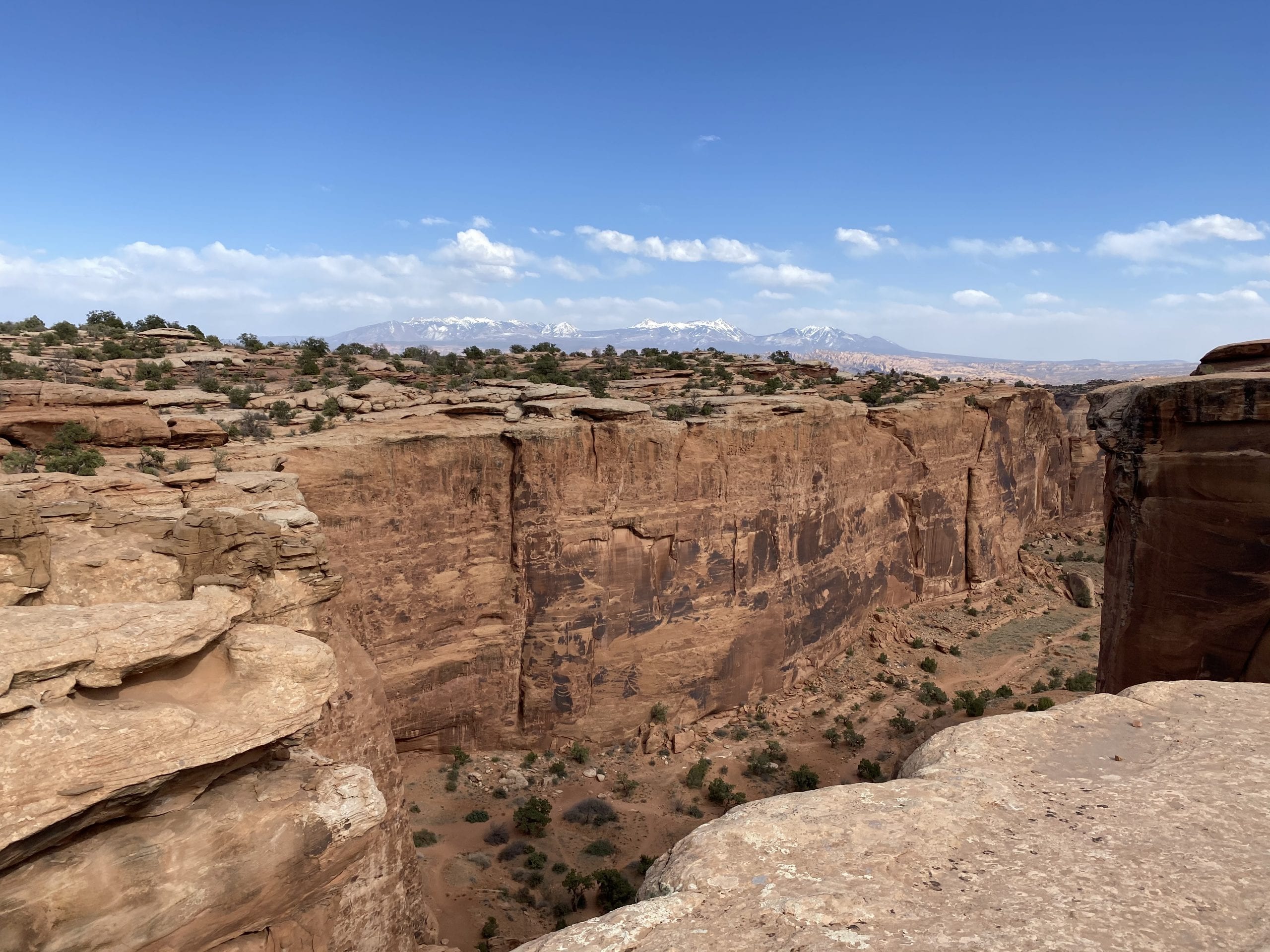 We wanted to sneak in one more hike before the drive home and Mill Creek Canyon was the perfect way to round off the trip! 
Of course, there's a ton more to do and see in Moab but if you only have a quick weekend, this will show you a good amount. Have a spot in Moab I need to go back to? Let me know in the comments and I'll add it to my list for next time!