It's been almost a year since Approachable Outdoors launched last summer as a fun side project during the Pandemic and I'm still blown away every day at what it's grown into. In the very early days I would dream about using this site as a source of good, to make an impact in this community that I love so much.
These tank tops, hats & t-shirts have been in the works since December and I couldn't be more excited that it's finally happening! (Also, I had no idea how much work went into creating merchandise – what a learning experience!) A few things were really important to me when I was working on this:
Giving Back
All of the proceeds are being donated to A Precious Child, an incredible organization that helps families through rough times which became all the more important this past year. I've been a "Celebrity Ambassador" for them since I moved back to Colorado and I'm blown away by the work they do. So every tank, hat or tee is directly helping families here in Colorado – I'm not making any money from the merchandise.
Supporting Local/Family Owned
After this past year it was really important to me that I found a local, family owned business to support for the printing. I knew that would make it more expensive than the big corporations, but for me it was worth it. While in Steamboat in December I popped in MTN Ohana and fell in love with their incredibly soft tees and tanks. When I found out they did screen printing I knew it was a perfect fit. Not only am I so happy with how they turned out, (I'm sleeping in them every night they're so soft!) they couldn't have been nicer and more helpful to someone who had no clule what she was doing. This certainly wasn't a huge order, but they made me feel so important along the way. (No discount or anything – just wanted to shout out a local business who was amazing)
A Couple of Shout Outs
Like the design? Me too! It was done by my incredibly talented sister-in-law who is the sweetest art teacher by day and graphic designer when she has a spare minute (which is not very often.) She also created the logo for the site when it launched after I said I have no idea what I would want it to look like – she's amazing!
Also, I was the officient at their wedding last fall: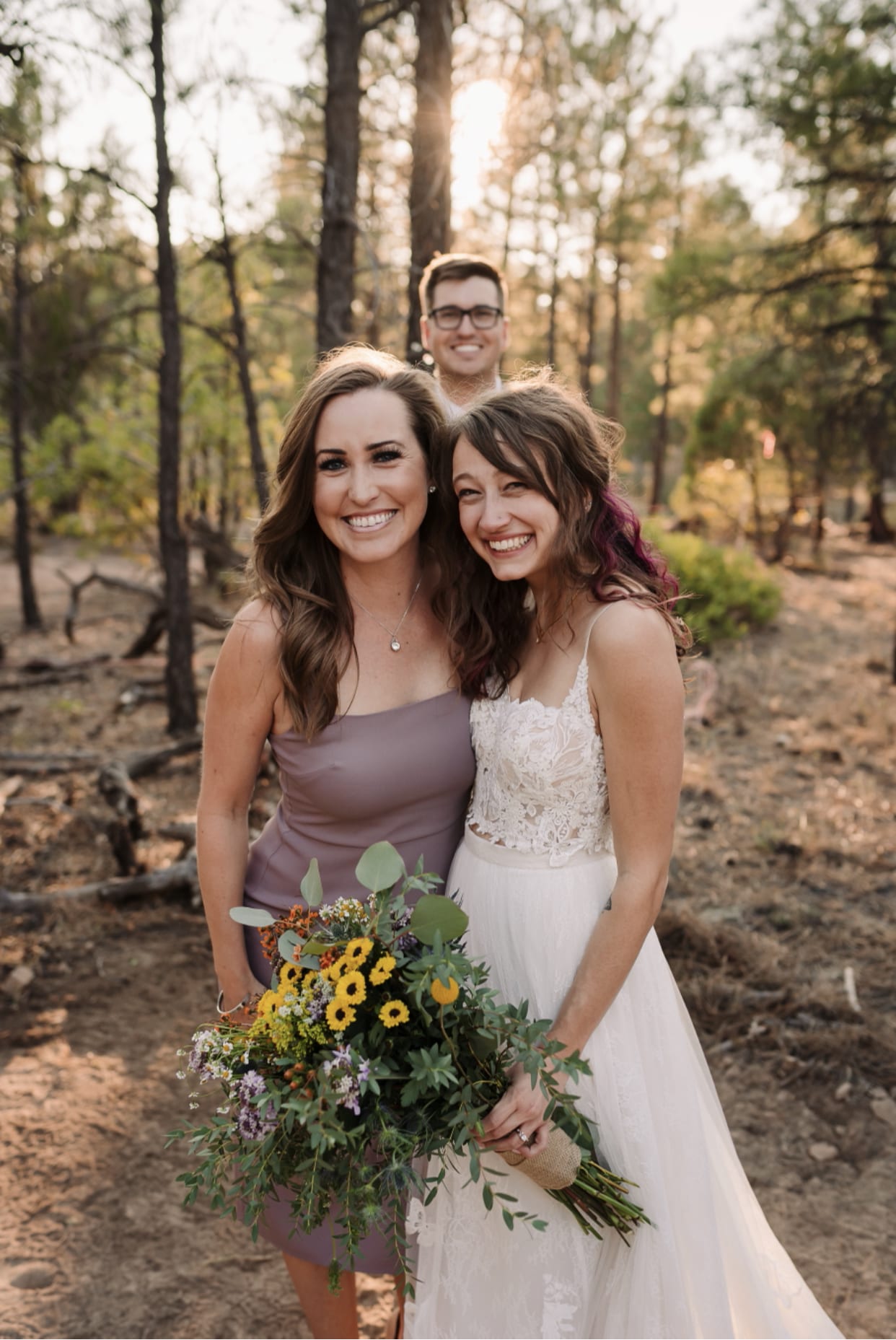 Also, my brother (the one popping his head up in the back!) is the brains behind this entire site. He built the whole thing from scratch and has been the biggest resource when launching this shop which was again, not as easy as I expected and he's been the most patient and helpful person in the world.
I can't thank you all enough for supporting an incredible organization and for supporting me this past year! Like everyone, there were a few low moments and hearing from all of you and seeing your hiking pictures always made my day.