I'm not sure I've ever had a more exciting wildlife experience on a hike! Although I should start by saying this is definitely more of a walk, then a traditional Colorado "hike." It's a relatively flat road through the canyon along the South Platte river with lots of bikers, families with strollers and anglers carrying their fly rods. I went three miles in then turned around to make it a six mile hike, but if you want to go all the way to the Strontia Springs Dam it'll be around 12 miles round trip.
My friend mentioned we might see a few Bighorn Sheep, so we were super excited when we saw a small herd off to the side, lazily hanging out in a grassy area. Then we were thrilled to see a few actually running along the side of the canyon, hopping from rock to rock effortlessly and nearly blending into the rocks. They're really remarkable animals!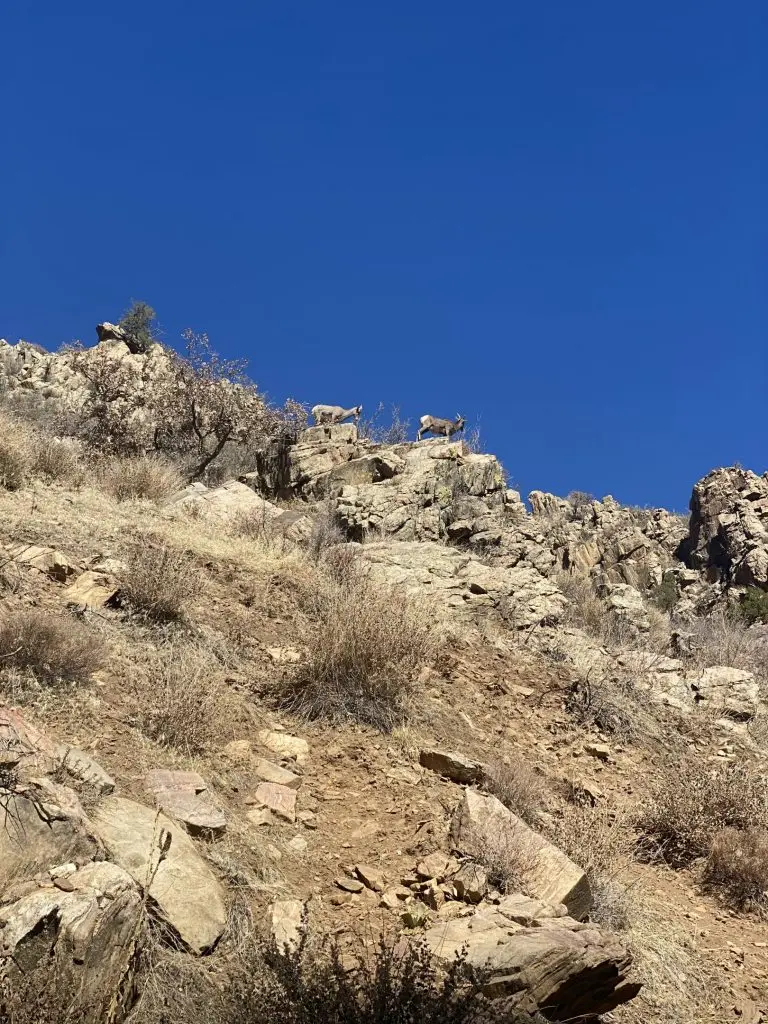 But none of that compared to the herd of Bighorn Sheep right in the middle of the road almost 3 miles into the canyon. As we were walking up we could see a group of adult males in a huddle, along with dozens of younger sheep (including a few adorable babies!) scattered on the side of the road, on the rocks above or just casually sitting nearby.
We watched from a safe distance as the rams literally rammed each other. Have you ever heard those horns collide? It's so much louder than I ever expected. We hung out with a volunteer for the canyon whose job is help keep hikers and bikers safely away from the wildlife. She explained to us that this time of year is mating season (October to January) so the sheep can be unpredictable.
I didn't know much about Rocky Mountain Bighorn Sheep (the males are also called Rams!) but they were so cool up close! Their horns live up to their name and the volunteer was able to count the age of the Rams by their horns and the markings.
Apparently the 'ramming ritual' doesn't injure the rams because of their thick and bony skulls. The Rams we saw weren't running full speed ahead, but they can ram each other at speeds of 40 mph, according to the National Parks Service. I couldn't believe how loud it was, but wasn't surprised when I learned that sound can be heard about a mile away. Crazy!
A couple of other things we learned from the volunteer: there are plenty of black bears in the canyon, but you're much more likely to be injured by an unpredictable Ram so keep your distance. And watch out for rattlesnakes! She gave us a good tip, not to walk right along the edge of the road near the brush. Apparently there are quite a few rattlesnakes in the canyon so stick to the middle!
*No dogs are allowed in the canyon because of the Bighorn Sheep*
Here's a picture of me looking very uncomfortable surrounded by the sheep: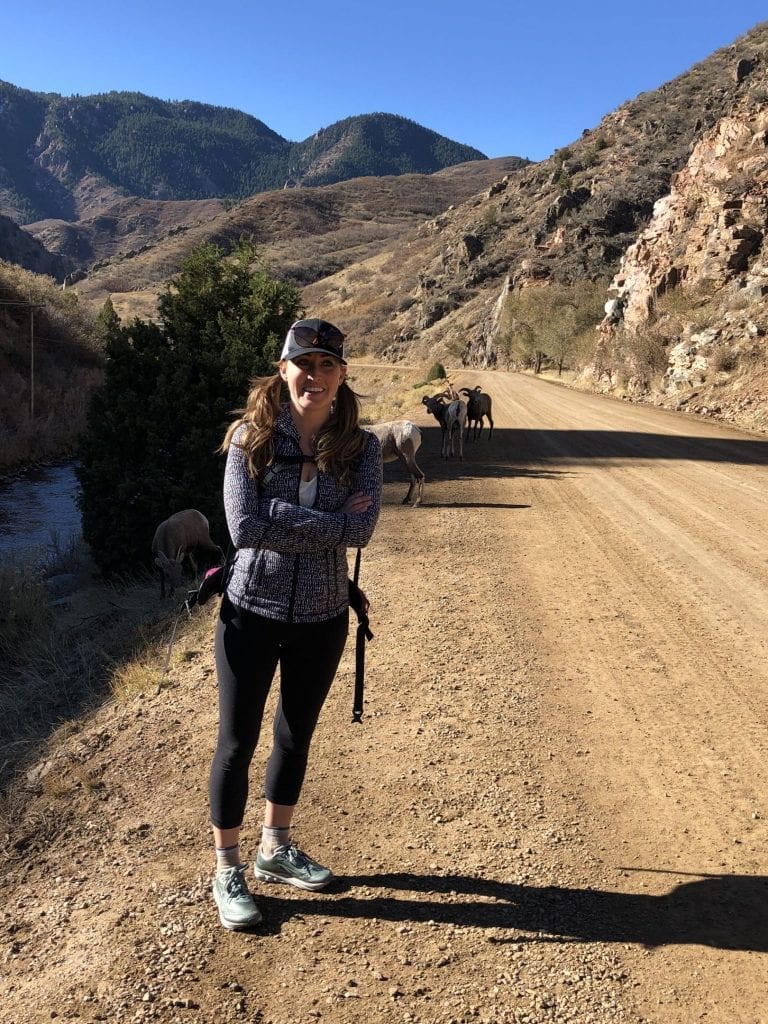 What's been your best wildlife experience on a hike? The stories always amaze me!