This hike was absolutely incredible! From start to finish it was stunning, relatively easy for most of the way (except for climbing up a waterfall – more on that in a minute) and had multiple lakes and waterfalls.
We got up at 3am in order to be at Rocky Mountain National Park as early as possible (reminder: you need a reservation) and as we got to the parking lot at sunrise it was already pretty packed. The trail starts at Glacial Gorge which is a very small lot, so we parked at Bear Lake which added an extra mile. You can also wait for the shuttles to bring you from lot to lot.
A mile into the hike you get your first waterfall: Alberta Falls! This area was super crowded. Then another two miles and you get to my favorite lake of the hike: The Loch.
The water was like glass and you could see the rainbow trout perfectly through the clear water. You also hike along it for a ways and it's stunning from every angle. Then the incline really gets going as you make your way to Timberline Falls. Here's where the hike gets tricky. Most of the way up until the falls in pretty easy, some steep spots but also lots of flat, level parts of the trail.
Then you have to climb up a waterfall. Yup, literally climb up wet rocks. The climb itself isn't that difficult, but the trickiest part was not slipping with wet shoes on the rocks. I ended up using my knees/legs to climb to climb because I didn't trust my shoes. Only one group can go up or down at a time, so there might be a bit of wait. We didn't have to wait going up, but coming back down (oh gosh, way worse than going up) we waited for a while and there was a long line waiting to go up.
One you're up, you're immediately rewarded with Lake of Glass! Another gorgeous lake.
Then there isn't really a set trail to Sky Pond, but just head past Lake of Glass along the right side and you'll start to see somewhat of a trail. It's less than a half mile to Sky Pond and it's pretty incredible too.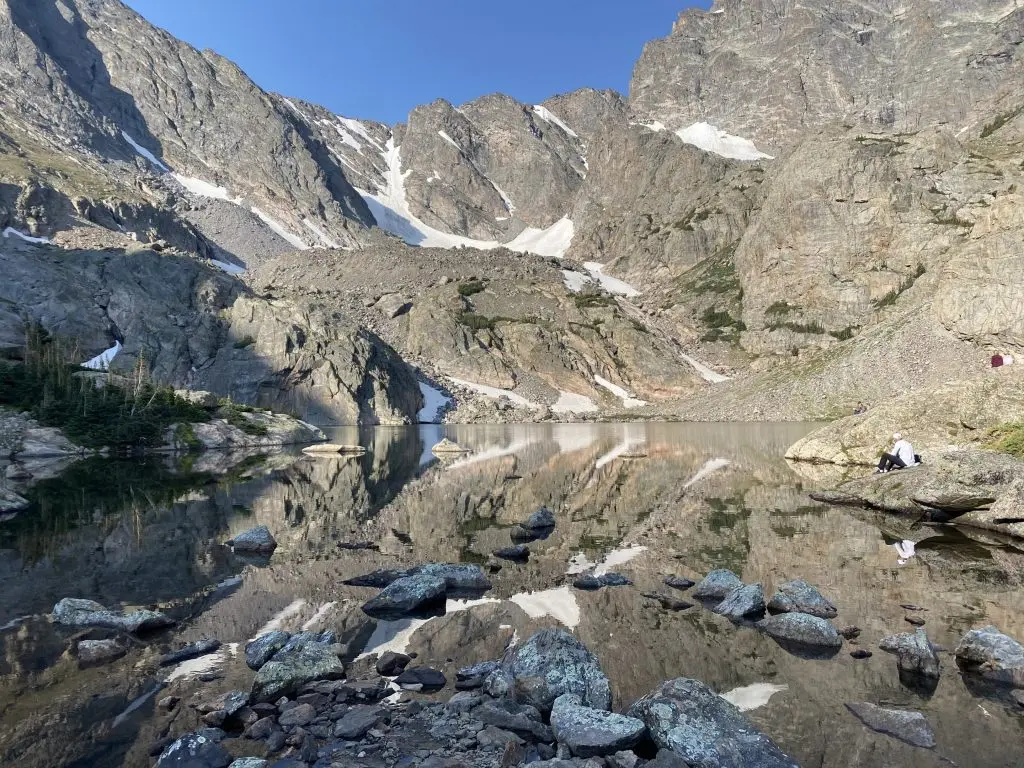 I can see why this hike is so popular, it was amazing every step of the way. Definitely go early and bring a mask because you'll be around a lot of people at times.