This hike kicked my ass, seriously. Alltrails has it rated as "moderate" but I'd put it closer to the "hard" level. The two and a half miles up to the first lake were easy to follow but pretty steady uphill and you're starting off at 10,380 ft above sea level. Thankfully, they're also nearly completely shaded so that helps!
The first lake is Mayflower Lake and it's a cute little one, surrounded by frees & wildflowers. My friend called it more of a pond, but still beautiful. If you're looking for a shaded, relatively moderate 5 mile hike – turn around and you'll still have completed a great hike! Ready for a challenge and two more lakes? Get ready for an adventure!
Before I tell you about all the times we got lost & how steep & rocky your hike will be… let me show you where you're headed!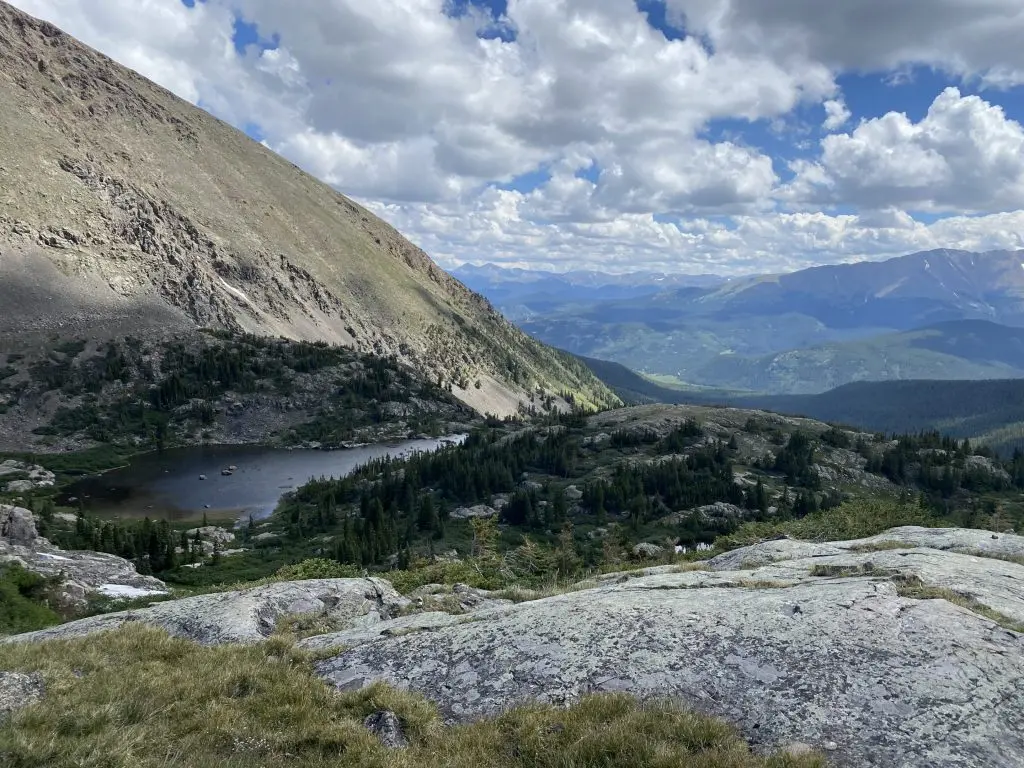 Ok, obviously gorgeous and now that I'm back home on my couch drinking a beer, totally worth it. After Mayflower Lake there's a sign pointing to the next few lakes so you'll think it'll be smooth sailing. We were wrong and took several wrong turns and "false trails" until we stumbled our way to the lakes. We went early, so there weren't a lot of people to ask for help – so let me help you learn from our mistakes:
After Mayflower Lake, cross the river (the logs are a little sketchy) then go straight. Don't go left – it's a dead end – and going straight is going to feel like a dead end too, but follow the rocks up! After a short ways you'll reach a little house with your next sign. Check out the lower falls to the right, then head left to make your way up (and I mean, UP) to the Mohawk Lakes. Ok, before you follow the false trail to the left until the dead end (like we did) go just a few feet left, then almost a hard right to go straight up again. It's only a half mile but you're climbing fast! Keep an eye out for piles of rocks as trail markers.
Then you're at Lower Mohawk Lake!
But you've got one more to go… Once again we couldn't find the right trail at first. There are tons of trails to wander around the lake, but take the trail that keeps to the left of the lake & you've got another 20-30 minutes to a cute little lake above Lower Mohawk Lake – Anyone know the name? The views at the top are absolutely worth one last climb. It's especially cool because as you walk up to the last lake you're right below it! It's very, very cool! At the top it's over 12,000 ft. I believe you can go on to more lakes, so let me know if you've done that!
One last note – bring bug spray!