Distance:
6.8 Miles
Route Type:
Out & Back
Trail Head:
Meadow Lot
Elevation Climb:
~1,200 Feet
Amount of Shade
Partial
View Rating
5 Stars
So many people had recommended I check out Staunton State Park & they were right – it's beautiful, offering some of my favorite views I've seen and it's only about 45 minutes from Denver!
This was the longest hike I've done this summer, my hiking buddy and I are working up to a 14 mile hike so we made this one about 11 miles. But there are a ton of options for shorter, more family friendly hikes.
We stayed on the east side of the park and managed to hit four overlooks! I recommend starting with Mason Creek where you'll make your way up into the park through forests with plenty of shade. It's about three miles to the first overlook and it's absolutely breathtaking!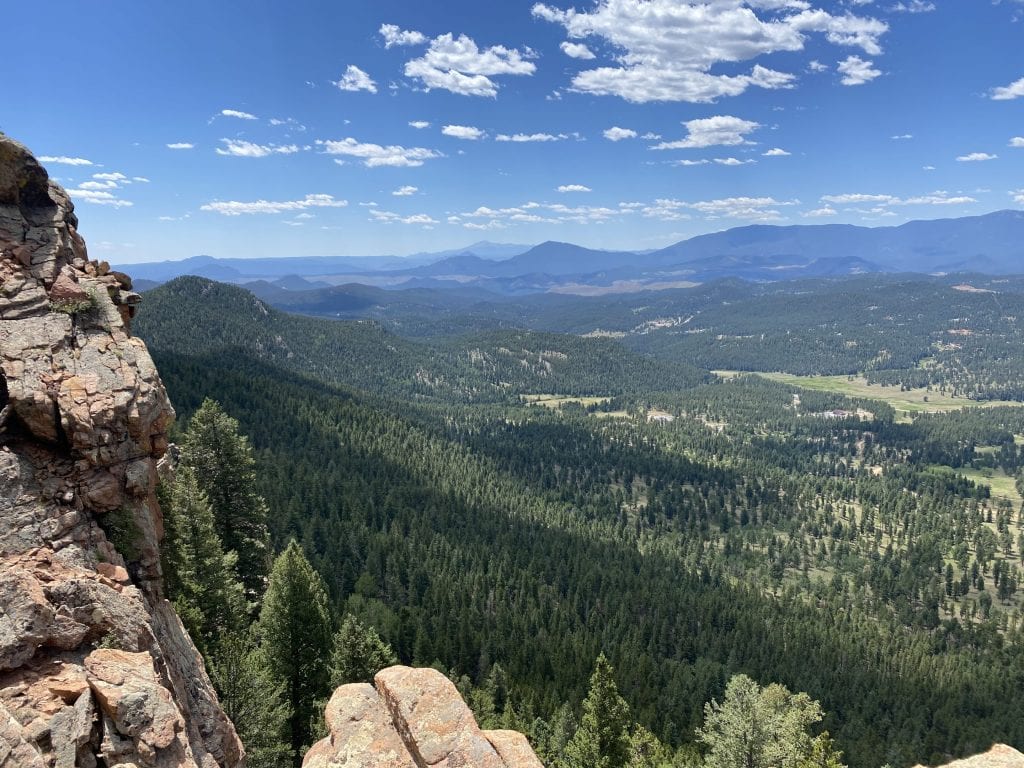 If you want to make it a six-ish mile hike you can turn around and head back down. If you want to go a little longer like we did, keep going to the other overlooks. I highly, highly recommend making it to the Eagle Cliffs Overlook! It's a bit of a scramble up to the overlook, but if you can make the climb you're rewarded with 360 views of the park.
We kept going to Staunton Rocks overlook and then down Old Mill trail (which is about a mile that's rocky & steep so watch your step!) Can't wait to go back and explore the east side!
**This will be a great hike for fall colors!**
Cost to enter Staunton State Park is $9 for daily entry.
Kylie Bearse
When I'm not exploring the trails, I'm a Meteorologist! You can see me weekend mornings on NBC affiliate 9News in Colorado. Have a weather question? Don't hesitate to ask!
Road Trip to the Black Hills in South Dakota!
I can be a total Colorado snob when it comes to hiking, but sometimes it's nice to mix things up and I'm so glad I made the 5 hour trek up to the Black Hills in South Dakota! Thank you to my dear friend, Jennifer who suggested this safe, socially distanced road...
How I've Found My Favorite Therapists
Photo by Dave PuenteWhenever I talk to people about starting therapy, I hear the same thing: I have no idea where to start even finding a therapist. I remember that feeling very well, but now I always refer people to the same place I've found all my favorite...