Let me start off by saying this is probably the least approachable hike I've done in a very long time, but you know that going in. This hike is hard and will kick your butt, but it's a Colorado staple so when my friend Erica (you've seen her on 9News! She's wonderful and in my quarantine bubble) asked me to go I only slightly hesitated before saying yes as she made the reservation (As of February 2021 you do need a reservation to climb the incline.)
A few basics before I tell you about my experience:
0.9 miles to the top with nearly 2,000 ft in elevation gain (2,768 steps!)
This is a difficult trail, it's not for beginners
Base Elevation: 6,530 ft
Summit Elevation: 8,550 ft
Wear good footwear! Make sure you shoes have traction and I would bring spikes if you hike it in the winter
On average, they say it takes at least an hour to hike to the top (we were an hour and three minutes)
Take a lot of breaks! (Everyone else will be, too)
No dogs allowed
More info on their website
From Denver it's about an hour and a half drive, but leave yourself some extra time because the easiest parking option in the Hiawatha Gardens Lot at 10 Old Man's Trail. From there the buses come every 20 minutes and take you to the base.
At the base you get your first glimpse of what you're about to do and it looked even worse than I imagined. One of our fellow hikers let us know that there were exactly 2,768 steps to the top which was great to know because every 100 steps you can see a sign noting the milestone on the bottom right-hand side of the step.
Honestly, I'm not big on steep or really difficult hikes (I mean, I named this whole blog 'approachable') but every once in a while it's good to take on a challenge and step out of your comfort zone.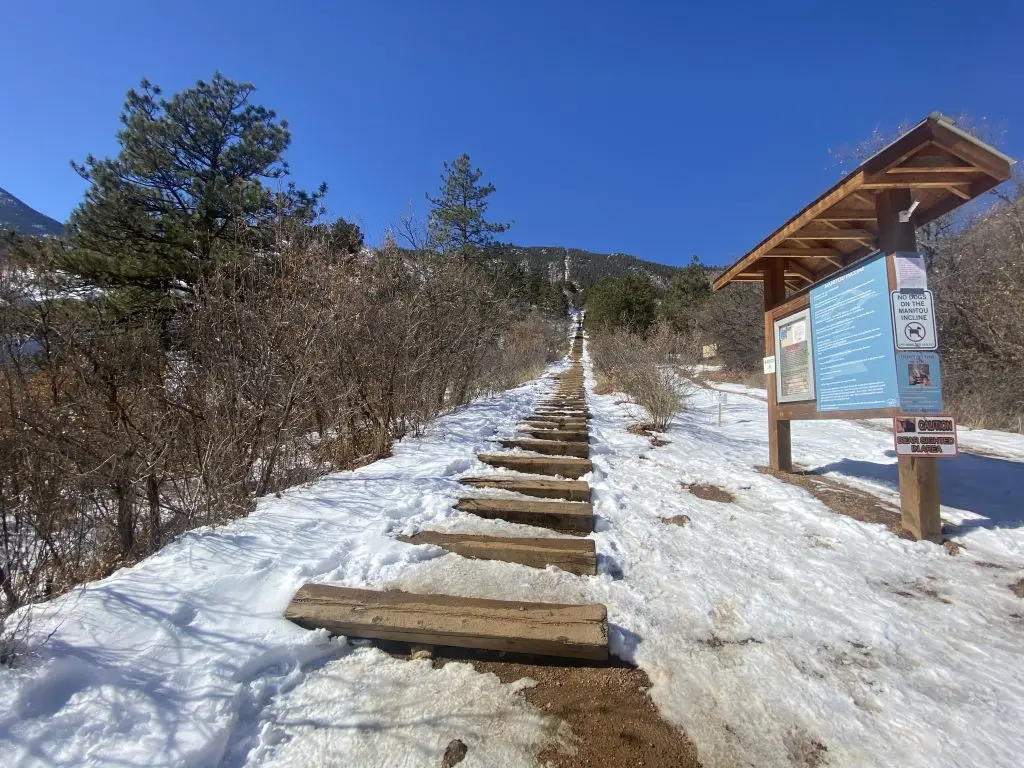 The incline doesn't start off too steep at all and actually the first 1,000 steps go by pretty quickly without us having to stop too much. The steps are all different shapes and sizes so make sure you're paying attention to where you're stepping!
After the first 1,000 is when things start to get much more difficult. It becomes much steeper and you start to see the groups of people stopping to take breaks – we were definitely amongst that group! I swear, no matter how long I hike here my lungs will never quite adjust.
The next 1,000 we were taking plenty of breaks because the steps got big and for these little legs required a little more effort. But the last 700+ were dizzying, looking up at the steep steps would give me instant vertigo and so did looking down – so there was a good chunk where I just stared straight down at the step in front of me. (I'm also very afraid of heights, so if you are too I wouldn't say avoid it, but know there will be some freaky moments.)
It took us an hour and three minutes to get to the top, which apparently some Olympic athletes can do in less than 30 minutes but I'm pretty proud of our hour.
At the top there are plenty of spots to sit down and marvel at what you just did, we brought a summit beer for the occasion and it was perfect.
Going down none of really thought about looking at the length of the trail (it's strongly discouraged to go back DOWN the incline) so there's a trail at the top that'll take you down switchbacks for about three and a half miles. I loved this because I finally got to take in the views I'd missed on the way up.
Am I glad I did it? Yes, that was a really cool experience and I feel like if you live here it's worth doing once. Would I do it again? Right now, with my incredibly sore legs I'm going to say no… but I'm also always up for an adventure so who knows…