This hike is a must do! It's not easy and I definitely wouldn't call it approachable with how steep it is even though it's really pretty short, but if you can power through it's one of the best payoffs I'd had on a hike. It's not listed on the pamphlets or websites for recommended hikes, in fact we only found out about it because our friend's horseback riding guide mentioned it.
First you can choose which route you choose: the north or the south trail. The south trail is the mileage at the top and it's the longer option of the two, but in my opinion the better choice if you're looking to swim! The south trail brings you to rocks that are much lower for jumping in, the north trail was shorter according to AllTrails but you end on top of the waterfall, making for a much bigger jump into the water.
Oh, and the water – it's absolutely freezing! Like take your breath away, lose feeling in your limbs freezing. Both sides do have either a ladder or rope to climb back out, but our one friend who attempted the ladder climb failed spectacularly since it's not secured to anything. Instead we just kind of threw ourselves back on the rocks like a beached whale and made it out with just a few bruises and scrapes.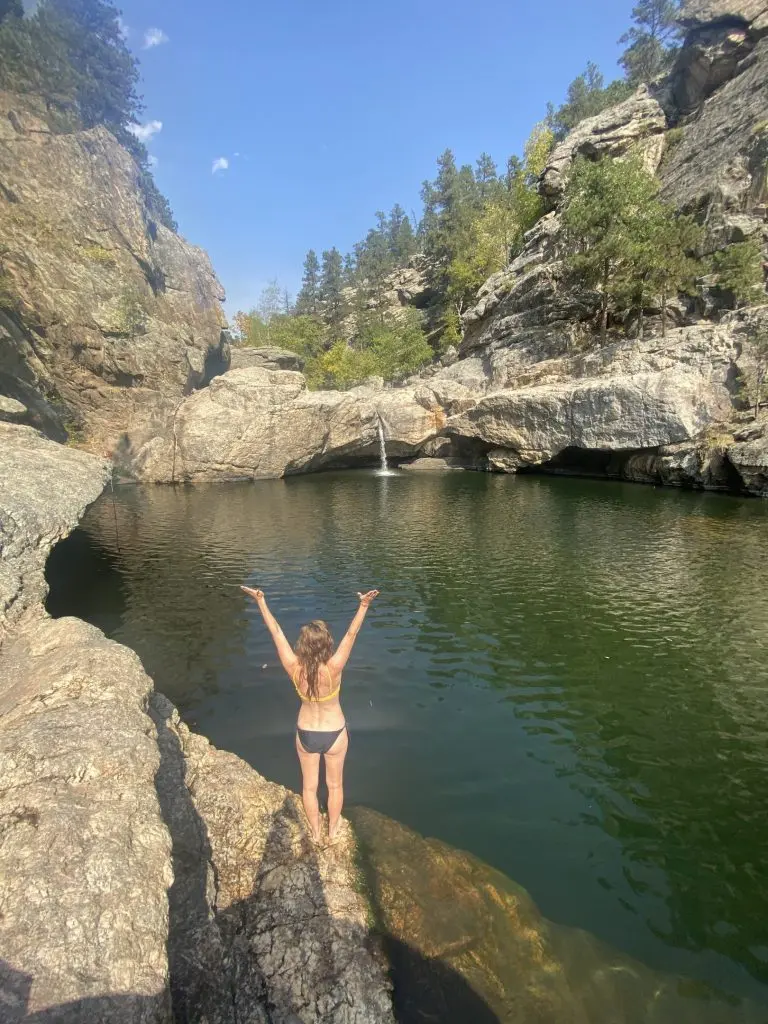 Somehow we lucked out and had the entire place to ourselves and honestly it was one of the highlights of the trip! After sweating our way down to the waterfall even the incredibly cold felt amazing once we were out and laying on the rocks in the sun.
The hike down to the waterfall was intimidating enough so we were pretty nervous about the hike back, but honestly it went by pretty fast. Don't get me wrong, it burned quite a bit but after how magical the water was I'd do it all over again in a heartbeat. In fact, I hope I get to again one day.
One last note, reading the comments on AllTrails we saw the warning for lots of poison ivy along the trail and they were right. We wore tall socks and pants which I highly recommend because the trail is very narrow at points.