Distance:
2.9 Miles
Route Type:
Out & Back
Trail Head:
Black Canyon National Forest
Elevation Climb:
364 Feet
Amount of Shade
Some Shade
View Rating
5 Stars
This is one of the best views I've ever had for a hike under three miles! The trail itself is very easy, with little elevation gain & a path that doesn't leave much room for getting lost. It's about a mile and a half with glimpses of the Black Canyon before all of a sudden – You get one of the most incredible views I've ever seen.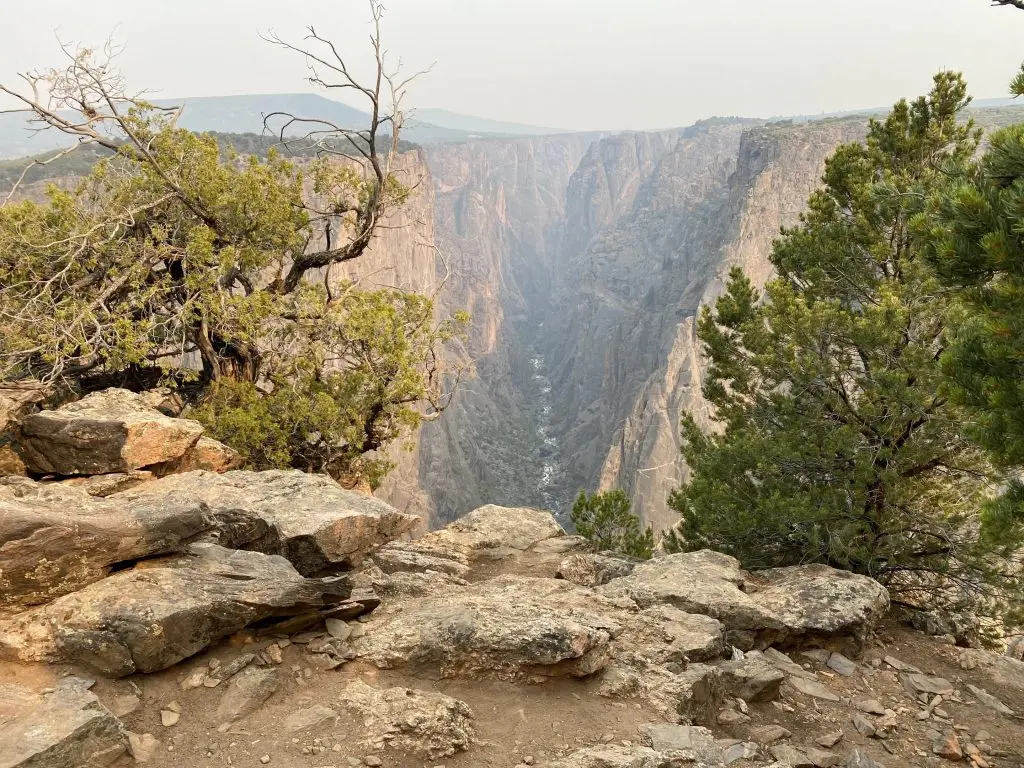 This was my first time at the Black Canyon and I can't wait to go back and spend some serious time here. We popped over to do this hike on our southwest Colorado road trip and it left me so hungry for more of this incredible place.
A couple notes – I'm terrified of heights and peering over the 2,7000 ft walls of the canyon left my hands sweaty and shaking. There's no rim, so while the trail itself is very child friendly, I would be careful with young kiddos.
We visited on our way from Crested Butte to Ouray and made it to Exclamation Point right around 5pm and the light was incredible. We were dealing with smoke from nearby wildfires, but it was still one of the most amazing views I've ever seen.
Also, the fear of heights is very real. Here are some embarrassing pictures of me trying to take a picture:
Kylie Bearse
When I'm not exploring the trails, I'm a Meteorologist! You can see me weekend mornings on NBC affiliate 9News in Colorado. Have a weather question? Don't hesitate to ask!
Coping Skills That Are Helping Me Through Coronavirus
Photo by Dave PuenteThese last few weeks have been rough. And of course, that's coming from a place of absolute privilege because feeling cooped up, claustrophobic, overwhelmed, frustrated, lonely are the feelings in the best case scenario. Every day I'm grateful...
I Said I'd Never Climb A 14er Again
And yet here we are. There's a reason this blog is called Approachable Outdoors because I would certainly not consider myself outdoorsy. I like a nice easy hike with a killer view or waterfall, then I like to be back in Denver in time for Happy Hour. There's...