Blue Lake in Indian Peaks Wilderness completely lived up to its name! With its bright blue coloring and crystal clear water surrounded by mountains, it might have become my new favorite lake in Colorado. I also saw two Moose on the trail!
This trail starts at Mitchell Trailhead in Indian Peaks Wilderness ($12 cash or National Park Pass), but the lot is small so you may end up parking at Brainard Lake which is what we did. It adds an extra mile and a half to the overall hike but it's relatively flat so it's not so bad.
From Mitchell Lake Trailhead it's a mile of mostly shaded path to the first lake, Mitchell Lake!
After Mitchell Lake you start to really climb in elevation and the trail becomes more open and more exposed to the sunshine. It's another mile and a half to two miles before you're at Blue Lake!
And oh my goodness, this lake is stunning!
There's an easy path to walk around a bit and I definitely recommend doing so because the water seems to change color at different angles! Plus, as we were walking around we ran into a Moose! We almost didn't see her at first, then backed off and enjoyed just how beautiful these animals are. They're massive, but move so elegantly. I was also surprised at how smooth their coat is! We contemplated going up and around to keep going, but glad we didn't because when the Moose finally gave us a little room to pass, there was a younger Moose right up where we would've been! They both were eating and while they noticed us, seemed pretty unphased by our presence.
We decided to keep exploring and go up to the little blue lake, which is about ¾ of a mile from Blue Lake. HOWEVER, this hike went from easy to moderate, to difficult pretty quickly. (This part of the hike is not included in the 6 mile round trip and elevation description.)
If you want to continue up to Little Blue Lake, just know there's not a set path and it's almost entirely up boulders. We got lost several times then finally found the cairns (little stacks of small rocks) and made our way up. If you're looking to take this route, hug the right side of the boulders to eventually find the path. We made the mistake of going left toward the grassy area with some water.
This part was a climb! I'm talking using your hands as much as your feet and routinely stopping to try to find the next cairn for the trail. It's not much as far as mileage goes, but it'll take some time.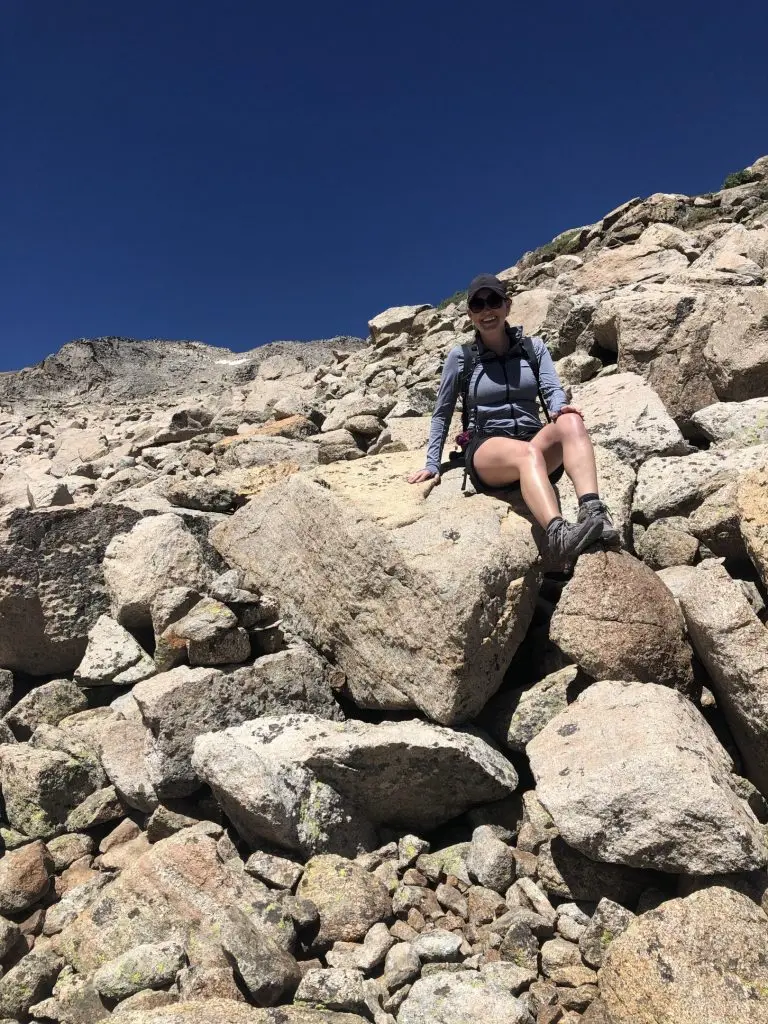 Your reward at the top? We had the entire alpine lake to ourselves! While this part of the hike only adds about a mile and a half round trip, it's about 600-700 ft elevation climb which makes it difficult.  Alltrails somehow still has this rated as moderate, but don't be fooled. If you're up for an adventure, it's well worth the trek!